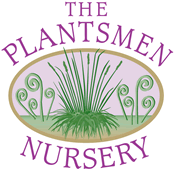 ​For projects that need more plants than you'd normally find 'on the shelf' in our retail nursery, we encourage organizations, contractors and homeowners to let us custom grow plants to suit your needs. Whether it's an ecological restoration project, or for a residential or commercial landscape, we can grow quantities, sizes and species that we may not have in stock at any given time. Minimums may apply.

​Please contact Dan Segal for more information on custom orders: ​dan@plantsmen.com

We grow perennials, grasses and sedges, ferns, ground covers, shrubs, trees, vines, organic veggie starts, annuals and more. We maintain stock of a wide range of plants for almost every habitat in our region, and we're always trying to increase our plant palette for our three most common landscape and garden requests: shade, wet sites, and deer-resistance.

We are proud to grow more native species than any other retail nursery in NY State.

• Most of our plants are native to New York and the Eastern US​
• Most of our plants are seed-grown for genetic diversity
• Most of our seed is locally collected for local adaptation
• All our plants are nursery propagated, never wild-dug
• We are a spray-free environment. This means no pesticides,
herbicides, fungicides or other chemical applications commonly
used in plant production​