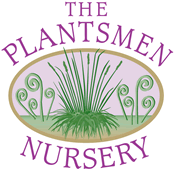 The Plantsmen operates a full retail nursery where we offer clean, robust plants in a spray-free environment. This means no pesticides, herbicides, fungicides or other chemical applications commonly used in plant production. We grow and sell everything from balled and burlapped landscape trees to ferns to organic veggie starts—including perennials, drought-tolerant and deer-resistant plants, vines, shrubs, ornamental grasses, fruit trees, fruit shrubs, and of course the greatest diversity of native plants found in any nursery in New York State.
​
Our expertise in field botany and local seed collection allows us to combine large-scale plant production of local plants with the accessibility of a retail nursery—something unique in the trade. Garden centers sell (mostly imported) stuff, and their plants are just another product they bring in, to sell with other things. We are a nursery that actually grows plants, and we encourage you to see the difference...
A few highlights from our nursery...

SUSTAINABILITY - Not just a buzz word. Here are some specifics:
• Most of our plants are native to New York and the Eastern US​
• Most of our plants are seed-grown for genetic diversity
• Most of our seed is locally collected for local adaptation
• All our plants are nursery propagated, never wild-dug
• We are a spray-free environment. This means no pesticides, herbicides, fungicides or other chemical
applications​ often used in plant production
•We use a locally produced compost/soil blend in our landscape work and almost all of our nursery potting.

EDIBLE PERENNIALS - Locally grown and unique selections including raspberries, currants, blueberries, a large variety of fruit trees, gooseberries, hazelnuts, paw-paws, persimmons, June berries, grapes and much more!

​PLUGS or LARGE PROJECTS ​- For projects that need more plants than you'd normally find 'on the shelf' in our retail nursery, we encourage organizations, contractors and homeowners to let us custom grow plants to suit your needs. Whether it's an ecological restoration project, or for a residential or commercial landscape, we can grow quantities, sizes and species that we may not have in stock at any given time. Minimums apply. Click here to visit our custom growing page for more information and instructions on how to place your custom plant order!

ORGANIC HOMEGROWN VEGGIES; ANNUALS AND SEEDS ​- All our robust veggie plants are grown from seed, in-house, with nothing toxic from day one. We also carry unique seed packs and beautiful homegrown annuals!